Stringed Instrument Repair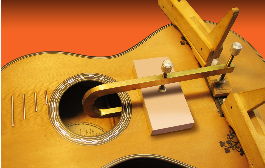 "You are truly a craftsman and your pride in your work shows. You took a cheap, damaged banjo and gave me back a sound instrument. You restored a neglected, vintage 41 year-old guitar and gave it new life... your work re-creating the thick pick guard is exceptional and appears very authentic. Your refinish on the head of the electric guitar though is the best of all. It's a pretty guitar and you matched the finish perfectly."
- Michael H.
The day after I left your shop I went into the studio and started warming up. This engineer has recorded me on that guitar many times going at least as far back as the year 2000, with the most recent date being two weeks before this. He turned around, astonished, and asked if I'd brought a different guitar. I explained about the new saddle and raised nut. Everyone in the room (the band's drummer and flutist, along with my wife, who is producing) noticed the improvement immediately.
After I laid down my tracks he pointed out how much better the instrument records now. I'm not exactly sure what he meant, but I assume the fact that the harmonics now line up and reinforce each other to make its response across its range more consistent has something to do with it. I think you gave that guitar More Cowbell."
- Bobby B.
Repairs and Appraisals
are done on ALL stringed instruments. (except the piano)
Estimates are done at no cost, and approved by the customer prior to all work being performed...