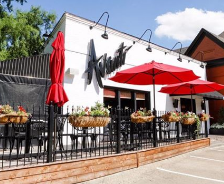 Avanti Ristorante
solo performances
Monday, Wednesday & Thursday 7-10pm
Friday's 8-11pm

Saturdays, duo with Russ Hewitt 8-11pm

2720 McKinney Ave, Dallas, TX
214-871-4955
www.avantirestaurants.com
__________________________________________________________________
Mr. Antonio performs locally in Dallas Texas, rehearsing his concert pieces and practicing new material for future performances. During each performance he presents Flamenco music of Spain and Classical music from around the world.
THURSDAY APRIL 12, 2018

5:30-6:30 pm
Downtown Plano Arts District
Ewing Buick Stage/ McCall Plaza
(next to the Fillmore Pub)

"Thank you once again for your magnificent music for the Kilby Nobel Reception for George Smoot, Nobel Laureate, Astrophysicist, and Kilby Laureate. Our Honoree and our guests were privileged to hear you."
-Victoria D.